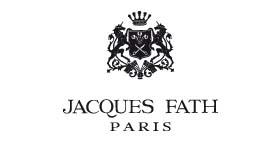 Origins
Jacques Fath
was born in France in 1912. Fascinated by fashion since his early years, the young designer opens his first Couture house in Paris in 1937. His unique and glamorous style brings him immediate success. Known for dressing the "young Chic Parisian ",
Jacques Fath
attracts well-known and wealthy clients. Hubert de Givenchy, Guy Laroche and Valentino Garavani - all worked as assistants in his atelier and later would form their own Fashion Houses. The perfumes' saga begins with the launch of Chasuble in 1945. Later with the creation of Iris Gris and Green Water in collaboration with perfumer Vincent Roubert,
Jacques Fath
Perfumes become legend.
The Concept
The spirit of
Jacques Fath
perfumes is captured today within the Fath's Essentials Collection, its contemporary design and emblematic codes. It all started when passionate perfume lovers met: Rania Naim, art director of
Jacques Fath
Parfums, Cécile Zarokian, talented perfumer and Luca Maffei, rising star of niche perfumery. So while she was preparing the design of the Collection, Rania naturally offered Cecile to collaborate with her for the first part and Luca for the second.
THE PERFUMERS
Cecile Zarokian
&
LUCA MAFFEI