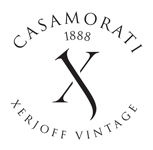 CASAMORATI 1888 – XERJOFF GOES VINTAGE
XerJoff introduces a brand of fragrances inspired by the ancient art of Italian perfumery: XerJoff Vintage Collection.

The brand recreates the history of glorious house of fragrances founded in Italy between the 18th and the 19th century with the intention to safeguard their historical and artistic heritage of that glamorous era.
XJ Casamorati Collection
A collection focused on resurrecting the craftsmanship and old world style of La Fabbrica di Profumi C. Casamorati - a 19th century haute parfumerie established in Bologne. Paying homage to a vanishing heritage, this collection combines the highest quality raw materials and straightforward sophisticated perfumery in seven luxurious bouquets. Its art nouveau packaging reflects the fusion of nature, passion, and artistry contained in each bottle.