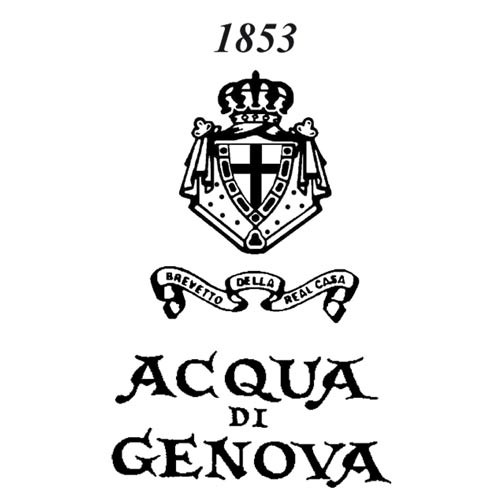 Acqua di Genova
Acqua di Genova was created in 1853 for the Royal House of Savoy by the famous Genoese distiller and perfumer Stefano Frecceri. This fragrance quickly became an indispensable part of the morning toilet of every important personality of the time. Acqua di Genova became a great favourite with all the royal families of Europe. Illustrious society figures of the time such as Camillo Benso, Count of Cavour and Constantino Nigro, former Secretary of State didn't hide the fact that they used the fragrance to enrich and add the final touch to their appearance.

King Vittorio Emanuele II was so impressed with Acqua di Genova that he expressed his appreciation of Stefano Frecceri and Colonia Acqua di Genova on the 28 March 1866 by royal decree and appointed him as official purveyor to the court. In particular, the fresh, valuable and classic touch of the fragrance was the reason why Virginia Oldoini, the Contessa di Castiglione, then hailed as one of the most beautiful women of Europe fell in love with the fragrance. The aristocrat was known for her charm, her sense of style and her beauty and was a role model for many men and women at the time. She soon became the favorite at the French court of Napoleon III. Her charm and charisma was so great that the women at the French court began to imitate her and even adopted the Contessa's favorite fragrance, Acqua di Genova.

The reputation and fame of the Acqua di Genova fragrance has remained to this day.
Acqua di Genova is het eau de cologne van het Italiaans Koninklijk Huis van Savoye (dat regeerde van 1861-1946) en heeft ontelbare prijzen en belangrijke onderscheidingen mogen ontvangen.

In 1853 gecreëerd door de parfumeur Stefano Frecceri, werd het al snel gebruikt door de Europese Koninklijke Huizen. Koning Vittorio Emanuele II liet in zijn testament opnemen dat bij Koninklijk Besluit van 1866, Stefano Frecceri gerechtigd was om het Koninklijk Wapen van het Huis van Savoye te gebruiken op al zijn producten. Virginia Oldoini, Gravin van Castiglione, in haar tijd beschouwd als de mooiste vrouw van Europa, introduceerde de geur aan haar minnaar Napoleon III. Door haar charme lukte het haar om het Franse Keizerlijke Hof te overtuigen van het gebruik van Acqua di Genova.

Acqua di Genova wordt vandaag de dag beschouwd als klassiek voorbeeld van een eau de cologne; vele malen gekopieerd, maar nooit geëvenaard. Het wordt nog steeds gemaakt in het familiebedrijf op basis van de beste natuurlijke ingrediënten volgens de originele formule van Stefano Frecceri. Waardoor de hoge verwachtingen voor de kwaliteit nog steeds worden gehandhaafd.

Naast de authentieke eau de cologne vindt u bij Acqua di Genova de prachtige Silver en Gold eau de parfum collectie. Een collectie van in totaal vier eaux de parfum op basis van een rijk eigentijds bloemen- en fruitbouquet. Als eerbetoon aan het 150-jarig bestaan van het huis Acqua di Genova is de 1853-collectie ontwikkeld; 1853 Lady en 1853 Men. Deze klassieke en krachtige eaux de toilette zijn gebaseerd op originele recepturen van Stefano Frecceri.