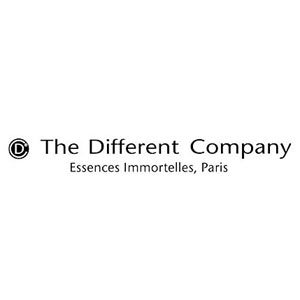 The Brand: The Different Company

The Different Company has managed to become a reference in the Haute Parfumerie Contemporaine thanks to a unique signature not only with our fragrances but also with a unique designed concept.
Because the ultimate luxury reflects our differences, The Different Company is focused on creating fragrances without any compromise on the excellence of the raw material and of its creations.
It is an attitude, a quest for modern olfactory beauty, unique and so bewitching...
Their values:
- Pleasure
- Elegance
- Uniquely designed objects
- Olfactory perfection
A different approach to luxurious perfumery :
- Bringing together the best in fragrance creation and design
- No compromise on quality
- A brand dedicated to and driven by creativity.
Their different products:
- Innovative packaging and timeless materials n
- Exceptional fragrances made with high concentration levels of rare and natural ingredients
A unique team of astonishing artists :
- A unique combination of design with Thierry de Baschmakoff and of perfume composers with Jean-Claude and Céline Ellena, Bertrand Duchaufour, Émilie Coppermann, Christine Nagel, Alexandra Monet, Corinne Cachen and Delphine Jelk.
Being different is the ultimate luxury...
The company is now present in more than 40 countries with their fragrances created by Jean-Claude and Céline Ellena, Emilie Copperman, Bertrand Duchaufour and Christine Nagel.