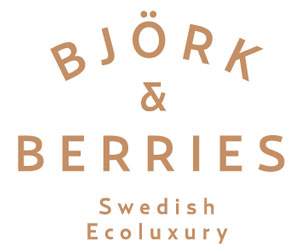 ABOUT Bjork and Berries
Björk & Berries is a Swedish botanical skincare and perfume house dedicated to capturing the beauty and benefits of Swedish nature in its purest form – and recreating that experience in expertly crafted products people use every day.
THEIR STORY
Björk & Berries started as a small project in the deep forests of northern Sweden, combining centuries-old Swedish natural beauty traditions based on local flora – wild herbs, plants and berries – with advanced technology to create highly effective modern beauty products. Working closely with a team of skin experts, cosmetic formulators, botanists and renowned perfumers, our vision is to preserve these Swedish beauty traditions and share them with the world through luxurious organic and natural skincare products and artisanal fragrances.
Luxurious yet sustainable – ecology is at the heart of our ethos – every formula is designed to deliver the maximum beauty benefits with the minimal amount of ingredients in order to streamline your beauty routine. Our development of products is founded in thorough research and our idea is to combine carefully selected active ingredients in unique blends with a mindful and sensorial application experience, in environmentally friendly packaging. All products are made in Sweden
.